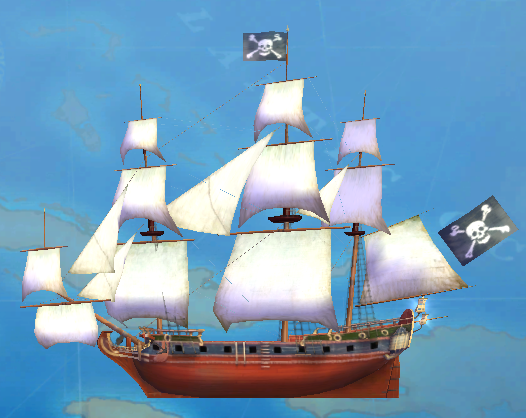 We're back to the high seas! Today I have around twenty ship stat blocks for you from the Age of Sail. Starting with the stat blocks from Sid Meier's Pirates! and the Dungeon Master's Guide, I tinkered with the statistics to come up with a meaningful manner of integrating ships into the Naval Travel & Combat system put together so far. First, let me walk you through the DMG's ship stats, where it's lacking and what's needed to fix it.
In the Dungeon Master's Guide all ACs are 15. Every ship having the same AC regardless of size or maneuverability really bungles up verisimilitude, so I gave big ships AC 13 and small ones AC 17. HP went the same way, with small ships getting 100, medium 300, and warships 500. Damage Thresholds are all very close, but I can see the Damage Threshold values all being relatively close since wood is wood. Though again size needs to be incorporated and that should give some variation.
As for crew, the Max Crew functions as the total capacity for people on board the ship. Any more and it'll be too crowded for the crew to function effectively. Min Crew is the minimum amount of crew needed just to make the ship sail. Ideal Crew is the minimum number of crew to operate the ship without penalties, which gives disadvantage on all Sailing checks.
Max Cannon is the amount of guns that can be fired on both sides of the ship, meaning half this number is the amount of cannons that can fire on each side. I can't quite seem to determine whether the numbers of max cannon correlate historically with the number of gun ports on each side of a ship or both. To preserve previous number crunching in terms of amounts of damage and average length of combat, I'm going with the number representing the total gunports on both sides of the ship. If you happen to have any expertise on the matter feel free to correct me.
Speed was a little tricky. Different speeds add up quickly over a few rounds, especially with limited turning. So again went with three different speeds of 4, 5, and 6 squares. At least with the sailing system of being able to change speeds will allow skilled captains to outmaneuver faster ships. I'd recommend going full X-wing style with hidden reveals for ship movements.
Speed
6 sq
; AC
17
; HP
100
; Damage Threshold
10
Best Wind:
Broad Reach
; Max Cannons:
8
; Cargo:
20 tons
Max Crew
50
; Min Crew
6
; Ideal Crew
30
Speed
6 sq
; AC
17
; HP
100
; Damage Threshold
10
Best Wind:
Beam Reach
; Max Cannons:
10
; Cargo (tons):
25
Max Crew
60
; Min Crew
6
; Ideal Crew
36
Speed
6 sq
; AC
17
; HP
100
; Damage Threshold
10
Best Wind:
Beam Reach
; Max Cannons:
12
; Cargo (tons):
30
Max Crew
80
; Min Crew
8
; Ideal Crew
44
Speed
6 sq
; AC
17
; HP
100
; Damage Threshold
10
Best Wind:
Broad Reach
; Max Cannons:
12
; Cargo (tons):
40
Max Crew
75
; Min Crew
8
; Ideal Crew
44
Speed
6 sq
; AC
17
; HP
100
; Damage Threshold
10
Best Wind:
Broad Reach
; Max Cannons:
12
; Cargo (tons):
50
Max Crew
100
; Min Crew
10
; Ideal Crew
58
Speed
6 sq
; AC
17
; HP
100
; Damage Threshold
10
Best Wind:
Broad Reach
; Max Cannons:
20
; Cargo (tons):
60
Max Crew
125
; Min Crew
12
; Ideal Crew
72
Speed
5 sq
; AC
15
; HP
300
; Damage Threshold
15
Best Wind:
Broad Reach
; Max Cannons:
12
; Cargo (tons):
60
Max Crew
75
; Min Crew
10
; Ideal Crew
46
Speed
4 sq
; AC
15
; HP
300
; Damage Threshold
15
Best Wind:
Broad Reach
; Max Cannons:
16
; Cargo (tons):
70
Max Crew
70
; Min Crew
12
; Ideal Crew
60
Speed
4 sq
; AC
15
; HP
300
; Damage Threshold
15
Best Wind:
Broad Reach
; Max Cannons:
16
; Cargo (tons):
80
Max Crew
125
; Min Crew
14
; Ideal Crew
62
Speed
4 sq
; AC
15
; HP
300
; Damage Threshold
15
Best Wind:
Broad Reach
; Max Cannons:
20
; Cargo (tons):
60
Max Crew
125
; Min Crew
12
; Ideal Crew
72
Speed
4 sq
; AC
15
; HP
300
; Damage Threshold
15
Best Wind:
Broad Reach
; Max Cannons:
24
; Cargo (tons):
70
Max Crew
150
; Min Crew
14
; Ideal Crew
86
Speed
4 sq
; AC
15
; HP
300
; Damage Threshold
15
Best Wind:
Broad Reach
; Max Cannons:
32
; Cargo (tons):
80
Max Crew
200
; Min Crew
18
; Ideal Crew
114
Speed
4 sq
; AC
13
; HP
300
; Damage Threshold
15
Best Wind:
Broad Reach
; Max Cannons:
16
; Cargo (tons):
100
Max Crew
125
; Min Crew
16
; Ideal Crew
64
Speed
4 sq
; AC
13
; HP
500
; Damage Threshold
20
Best Wind:
Running Before the Wind
; Max Cannons:
40
; Cargo (tons):
140
Max Crew
200
; Min Crew
12
; Ideal Crew
100
Speed
4 sq
; AC
13
; HP
500
; Damage Threshold
20
Best Wind:
Broad Reach, Running Before the Wind
; Max Cannons:
24
; Cargo (tons):
80
Max Crew
160
; Min Crew
12
; Ideal Crew
100
Speed
4 sq
; AC
13
; HP
500
; Damage Threshold
20
Best Wind:
Running Before the Wind
; Max Cannons:
32
; Cargo (tons):
90
Max Crew
200
; Min Crew
13
; Ideal Crew
107
Speed
4 sq
; AC
13
; HP
500
; Damage Threshold
20
Best Wind:
Running Before the Wind
; Max Cannons:
40
; Cargo (tons):
100
Max Crew
250
; Min Crew
15
; Ideal Crew
105
Speed
5 sq
; AC
13
; HP
500
; Damage Threshold
20
Best Wind: ; Max Cannons:
32
; Cargo (tons):
80
Max Crew
160
; Min Crew
16
; Ideal Crew
112
Speed
5 sq
; AC
13
; HP
500
; Damage Threshold
20
Best Wind: ; Max Cannons:
40
; Cargo (tons):
90
Max Crew
250
; Min Crew
40
; Ideal Crew
112
Speed
5 sq
; AC
13
; HP
500
; Damage Threshold
20
Best Wind:
Broad Reach
; Max Cannons:
48
; Cargo (tons):
100
Max Crew
300
; Min Crew
18
; Ideal Crew
112